Now that the Glasgow Film Festival is in full swing and the Glasgow Short Film Festival have released their programme and we're getting ready for a few weeks full of exiting events! You may have already noticed SDI popping up in both of the programmes but here's a quick round-up of all our forthcoming West Coast appearances, plus some extra screenings to look out for!
First up is the Scottish Premiere of Director/Producer Naziha Arebi's Freedom Fields! We are so excited to be able to celebrate this film and the people behind it knowing the years of hard work Naziha, Producer Flore and their team put in to it.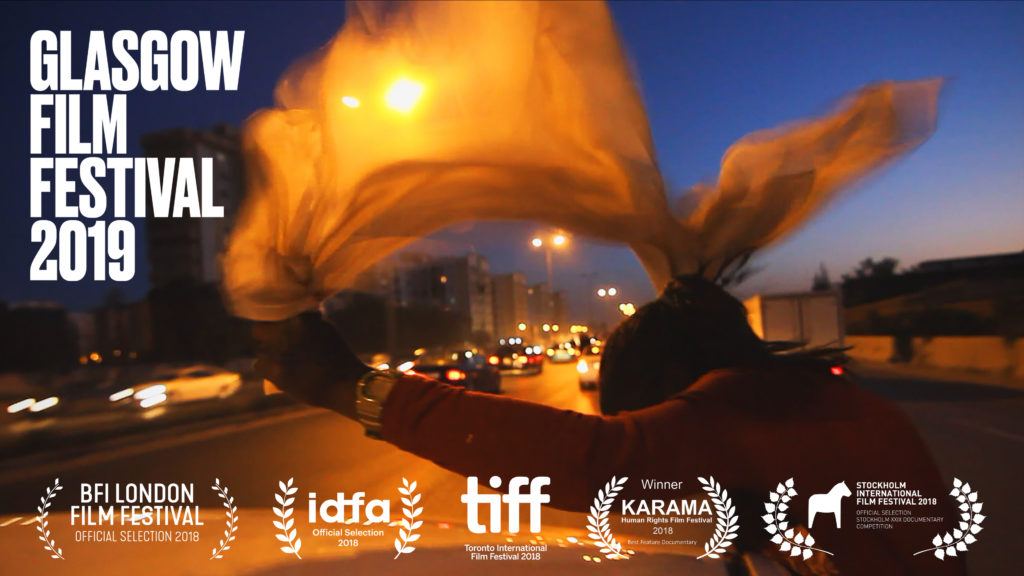 Glasgow Film Festival Screening Times
Wednesday 27 February – 18:00 – CCA Theatre – Tickets + Q&A with Naziha Arebi, hosted by GFF Co-Director Allison Gardner
Thursday 28 February – 13:15 – CCA Theatre – Tickets + Intro by Naziha Arebi
Is that a little Naziha we spotted in the GFF artwork? We think so!
We are also looking forward to contributing to two industry events at GFF.
On Wednesday 27 February Freedom Fields producer and SDI's Head of Talent Flore Cosquer will be appearing on the Funding Documentary Features panel with Aimara Reques of Aconite Productions. The filmmakers will discuss topics such as: adapting your funding strategy depending on the project, mastering the art of international co-productions, funding a project made by a first time filmmaker and funding relating to sensitivity of the topic.
Then on Thursday 28 February Flore is back again for Original Visions: Finding Your Voice in Film with UWS! This session will explore how emerging filmmakers can develop an original voice for cinema and will be hosted by Professor Nick Higgins, director of the UWS Creative Media Academy.
You can pick up a GFF Industry Pass here.
We'd also like to shout out a few other fellow Scottish docs screening at GFF! Aquarela, co-produced by Aconite Productions! As we highlighted when the film premiered at Venice International Film Festival, it is a hugely ambitious project and GFF honoured that by screening it in Cineworld on Sunday with Dolby Atmos sound. A few others still to come are are Trufflepig Films' Of Fish and Foe, Hopscotch Films' Harry Birrell: Films of Love and War and Magic B Films' Final Ascent. It's so great to see so much thriving Scottish talent! Another doc we know well is Do No Harm (Eminent Monsters), whose teamed participated in last June's Edinburgh Pitch, which is open for applications now by the way!
Check out the full GFF programme.
Looking head to March we have the Glasgow Short Film Festival, where two of 2018 Bridging the Gap films have been selected!
Isa Rao's Crannog and Carina Haouchine's Ululation have both been selected to screen in Scottish Competition 3: Learn to Fly, competing for Scottish Short Film Award, along with a brand new Bridging the Gap-per, Hannah Currie, and alumni, Duncan Cowles. As ever, GSFF seems to be a great place for emerging talent.