Don't miss out on the only international documentary pitching forum in Scotland and a great networking opportunity!
Now in its 10th year, The Edinburgh Pitch is running alongside the Edinburgh International Film Festival (15-26 June). Independent filmmakers and companies developing and raising finance for creative feature documentaries will pitch their project in front of an international panel on Thursday 16th June.
Join us to find inspiration, learn how to present your project on an international platform and be amongst the first to discover some exciting new projects from the four corners of the documentary world.
You can purchase your ticket HERE.
Make sure to book soon as places are limited!
Selected Projects:
Debut (PervajaKino Video Company / Belarus)
The Disappeared (Bright Life Films / UK)
Fields of Hope (Clin d'Oeil Films / Belgium)
Fragments Lost (Room Nineteen Films / UK)
Gustavo (Truth Department / UK)
Hero or Rebel (Quartier Latin Media / France)
I Get Knocked Down (Sunshine Pictures / UK)
Last men in Aleppo (Larm Film / Denmark)
The Man Who Stole Banksy (Italy)
My Heart Belongs to Daddy (Indie Film / Norway)
The Other Way (Israel),
Rikuzentakata (Wild Pair Films / US)
Panelists and Experts:
Salma Abdalla – Autlook Filmsales (Austria), Jan Daae – DR Sales (Denmark), Joost Daamen – IDFA (Netherlands), Leslie Finlay – Creative Scotland (UK), Daniel Green – Dogwoof (UK), Tracie Holder (US), Charlotte Gry Madsen – SVT (Sweden), Luke Moody – Britdoc (UK), Justine Nagan – POV (US), Jose Rodriguez – Tribeca Film Institute (US), Claudia Schreiner – MDR (Germany), Irena Taskovski – Taskovski Films (UK), Sarah Tierney – We Are Colony (UK), John Van Wyck – Cinereach (US), Jenny Westergard – YLE (Finland)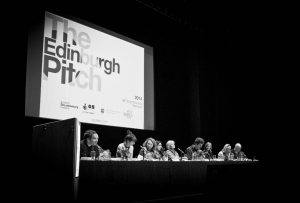 WHEN
June 16, 2016, 10:00am – 6:00pm
WHERE
Traverse Theatre
10 Cambridge St – Edinburgh EH1 2ED
For any additional information on the Edinburgh Pitch, please contact Flore: flore@scottishdocinstitute.com
The Edinburgh Pitch is part of our Docscene season of masterclasses and workshops supported by Creative Scotland and the Edinburgh College of Art (University of Edinburgh).