The Edinburgh Pitch is the only international documentary pitching forum in Scotland. It's aimed at independent filmmakers and companies developing and raising finance for creative feature documentaries and considering international co-productions. In 2018, the 2020 Oscar-nominated feature, The Cave, was pitched to our panel!
Applications for the Edinburgh Pitch 2020 are now closed.
Up to twelve filmmakers have been selected to take part. This year due to the Covid-19 crisis, the pitching workshop will take place online 23rd-24th May, and the Edinburgh Pitch will take place online 16th-17th June.
While we're still working on the exact format for this year's event, the initiative will still focus on connecting, not competing; on passion, not pressure.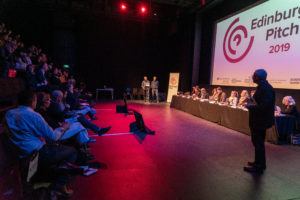 This year's selected projects are:
My Bollywood Dream – Moonmakers (Lithuania)
Love Alone Can't Make a Child – Mattima Films (Norway)
Name Me Lawand –Pulse Films (United Kingdom)
Red Herring – Postcode Films (United Kingdom)
Hydebank – Nightstaff Ltd. (United Kingdom)
Long Live My Happy Head – Melt the Fly (United Kingdom)
The Borderlands – All Things Small (India)
The Taste of Celibacy – Rudinska Film & Slovak Virus Film (Czech Republic)
The Boy from Georgia – Aconite Productions (United Kingdom)
Silent Men – Relative Films Ltd (United Kingdom)
Mogadisco: The Return of Somali Funk – Insight TWI (United Kingdom)
The Wild Ones – Modern Films & Magnified Pictures (UK)
We are thrilled to be welcoming Hannah Bailey (Doc Society), Mandy Chang (BBC Storyville), Joost Daamen (IDFA), Jackie Murphy (AlJazeera Media Network), Thomas Drachkovitch (Amazon Originals), Laurent Filiung (Arte GEIE), Tijana Djukic (Taskovski Films), Leslie Finlay (Screen Scotland), Cíntia Gil (Sheffield Doc/Fest), Daniel Green (Dogwoof), Tony Nellany (BBC Scotland), Lindsay Poulton (The Guardian), Teresa Simikova (CPH:DOX), Ania Trzebiatowska (Sundance Film Festival), Aleksandra Derewienko (CAT & Docs), Chris White (POV), Vesna Cudic (Metfilm) Jenni Tuovenen ( IDFA FORUM), Salma Abdalla (Autlook Filmsales), and Charlotte Gry Madsen (SVT) on our panel this year!
Please contact us on edinburghpitch@scotdoc.com if you have any further questions.
Scottish Documentary Institute is committed to offering clear and accessible application processes open to everyone. On request this information is available in alternative formats. We offer access support to disabled applicants, tailored to individual requests and our team can offer advice to new applicants and support them to make an application.
The Edinburgh Pitch is supported by Screen Scotland.
© photo: Juan Pablo Daza