In 'Isabel's Independence' you meet a powerhouse of a woman. Isabel is colourful and passionate, protective of her independence and her identify.
Leaving behind her husband and the financial collapse of 2008, Isabel's mission is to find a better life in Scotland.
'Isabel's Independence' is the second of our Right Here series of films to premier on BBC Scotland. The film tells the story of an ex semi-pro racing car driver, professional business woman and wife who has migrated from Spain. We find her working around the clock as a late night delivery driver, early morning cleaner and finding the time to learn English.
We catch up with Directors Inma de Reyes and Nelisa Alcalde to find out about the process of making this documentary film. We also discover what it is like to work with the Scottish Documentary Institute.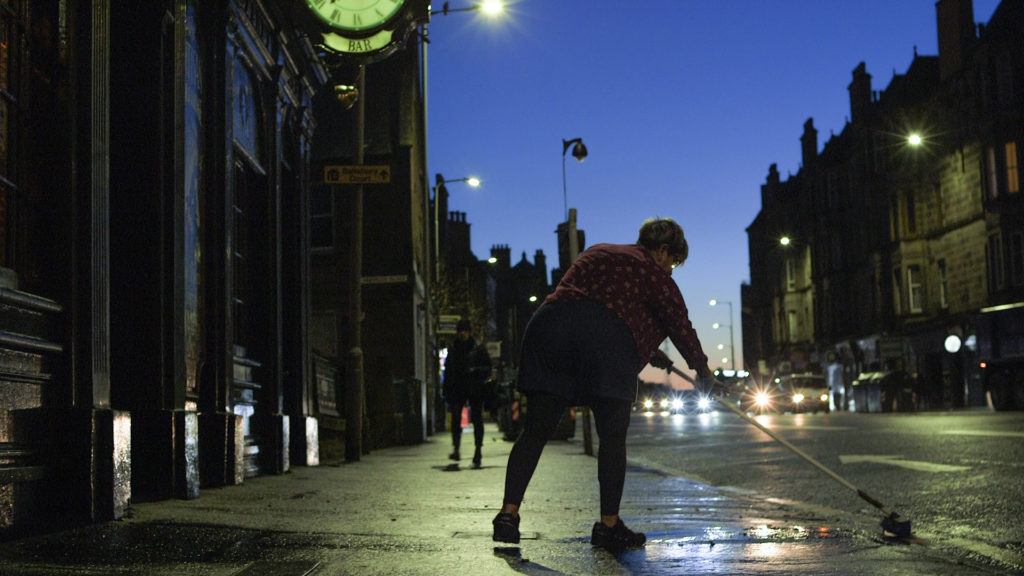 What drew you to Isabel's Story? 
We both left our hometowns in Spain -around 10 years ago- looking for a better future after the crisis hit the country. We were in our twenties, naive, full of energy and adventurous. However, Isabel made that decision in her late 50s. We talked and we wondered what it must be like to emigrate in your mid 50s, at the moment in one's life when everything is supposed to be settled.
Isabel's story tells the story of migration: adapting to a new culture, a new language, making new friends, looking for jobs and flats…
There is usually someone who has migrated before you, who will help you out, and add to the story of collective growth. 
There are a lot of Spanish folk in the UK. We like to think that we are representing a large portion of them by telling this story. 
Why tell this story now? 
We felt that there was a need to represent more immigrant protagonists in stories on TV. We had the opportunity to tell Isa's story as she was beginning to understand her new world. We wanted to show all the challenges an immigrant goes through from their arrival. Unfortunately, COVID hit and everything we knew from our lived-experience was out the window. We had to reinvent the film as Isabel was finding her feet in Edinburgh.
What did you hope to convey, and did this change over filming? 
We wanted to show the challenges an older migrant goes through as they live in their new environment; how important it is to have a social environment and to ask for help when you need it. But more than anything, we wanted to break the stereotypes attached to immigrants. The day we presented the idea to BBC Scotland, Screen Scotland and Scottish Documentary Institute, we had Isabel's journey almost planned, as we had gone through a similar one. The day after we got the commission, unfortunately, the state of emergency was declared in Scotland. We weren't sure how long it was going to go for, we weren't allowed to film Isabel or to enter her home, so our hands were pretty tied in terms of shooting. With Noe Mendelle, we had numerous Zoom calls to figure out a new way of telling Isabel's story. The film we shot was different to the one we initially pitched and planned, however, we are happy with the result and we are very proud of having been able to create a new narrative from the challenges we all faced during the pandemic. . 
Did Covid-19 change your creative process and how did you work to overcome this? 
Absolutely. The story we had in our minds faded with the pandemic and we had to put all our energy into finding a way of showing Isabel's character and journey. To keep 2 meters away from Isabel, we had to shoot with zoom lenses, from outside her window or outdoors in the garden, we had to film a lot of Zoom calls and a lot of voice overs to add to the story.
How did you find the process of working with SDI? 
Noé was great at helping us organise our thoughts and take the new direction, she was present through the whole process and we are more than thankful for her. As everything was done remotely, we had to adapt to this new way, sending hard drives to London, to Glasgow, back to Edinburgh… It wasn't an easy process and we really hope to be able to go back to in-person post-production for the next one. 
Isabel's Independence is available on BBC iPlayer
Read more about Isabel's Adventure here 
Find out more about Inma de Reyes here and Nelisa Alcalde here