We're delighted to reveal the commissioned filmmakers for the 20th edition of Bridging the Gap!
Back in August 2022, we invited both emerging and established filmmakers in Scotland and Northern Ireland to submit their open-themed ideas.  Up to 12 projects were selected for further development and received bespoke training with international industry professionals. After a highly competitive pitching session, six filmmakers were selected to receive funding.
We're beyond thrilled to start a new Bridging the Gap journey and support these talented directors to bring their thought-provoking and important stories to life.

Riad Arfin is an independent filmmaker based in Scotland. His short film 'A Bus Ride' won the best film award at the Dhaka International Short and Independent Film Festival in 2014 and screened at various film festivals. His other film 'A Fishing Story' won the jury award at Chitrovasha Film Festival in 2020.

Meray is a Cypriot filmmaker based in Glasgow. Her background in journalism and arts inform the stories she tells about human relation to the land, their environment and themes that emerge from them. She is currently focusing on identity, movement and collective trauma. She trained with NFTS Scotland, ScreenSkills and BECTU Vision and produced video portraits for BBC The Social and other commissions.
Marta Dyczkowska is a visual artist. Her practice outcomes are primarily video, with installation, photography and performance elements. At the core of her work is a focus on documentary and archive, and on highlighting human stories which underpin our public space.

Sarah is a working-class RTS Award winning and BAFTA Qualifying writer, director and performer based in Glasgow. She is a EIFF Talent Lab alumni and part of the Short Circuit First Features and Sharp Shorts programme. Sarah is committed to telling working-class body and sex positive stories that are honest, feminist and fearless.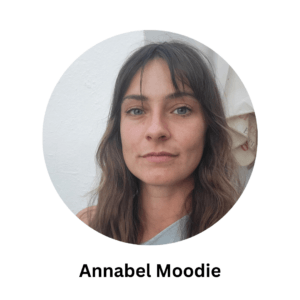 Annabel is an Edinburgh-based film and moving image maker, with a love of analogue and DIY processes, and the magic of the natural world. She has an MA in Ethnographic and Documentary Filmmaking and has worked asa freelance researcher, editor and videographer for creatives and arts events.

Maria is an Ukranian film director and DoP based in Scotland. Her first big experience in documentary filmmaking was 'White Elephant', a feature film about mountain rescuers she directed, produced and shot across four years. Her latest project is a film about the war in Ukraine where she acted as a character herself while filming the conflict in the country.
#BridgingtheGap is supported by Screen Scotland and Northern Ireland Screen.