Following a programme of intensive workshops and a competitive pitching process, seven filmmakers have been commissioned through this year's Bridging the Gap programme.
One of the leading documentary new talent initiatives in the UK, the theme of this year's programme is Rebellion and as ever the filmmakers came at the theme from every angle. Rebellion against Nature, civilisation, the system, the norm, life circumstance, time, the human body were all explored by the filmmakers and fought for and championed in the workshops and pitching process.
"After three months of in-depth development, our Bridging the Gap filmmakers did us proud in their pitch to a formidable panel of industry professionals," said SDI Director and Bridging the Gap panelist Noe Mendelle.
"With the selection of seven projects, we are now on a firm trajectory of forward momentum. I think it was fitting that the pitch coincided with this month special full moon, the "wolf moon" in the ancient Farmer's Almanac. This full moon is known to ignite majestic power, intuition and awareness and that's just what we look for in our Bridging the Gap films!"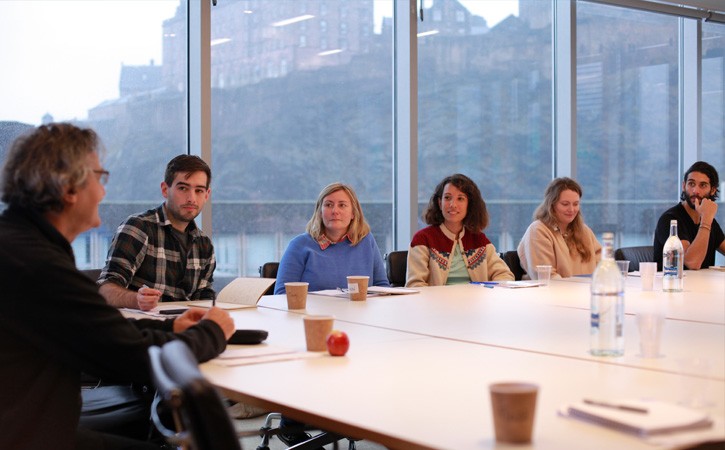 Bridging the Gap workshop participants hear from Producer and former Head of Documentary at Arte, Thierry Garrel.
The selected filmmakers come from across the UK. The diverse group consists of Phoebe Cottam, Thomas Hogben, Yulia Kovanova and Ciaran Pasi from Scotland. Myriam Rey from England, Jay Bedwani from Wales and Sean Mullan from Northern Ireland.
Bridging the Gap helps selected filmmakers develop their 10-minute documentary by allowing them to work closely with leading international industry professionals and SDI over a nine month period. Each film receives a cash budget of up to £8k each, along with further hands-on training throughout the editing and distribution process. What's more, the commissioned films receive a world premiere at Edinburgh International Film Festival.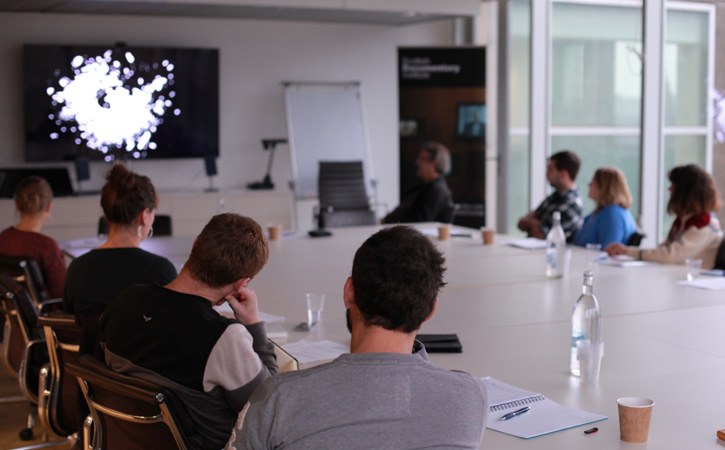 Participants present their projects.
Bridging the Gap is supported by the National Lottery through Creative Scotland, Creative Skillset's Film Skills Fund with BFI's Film Forever National Lottery funds, and the University of Edinburgh. And we'd like to thank our partners, Creative England, Ffilm Cymru Wales & Northern Ireland Screen. 
Filmmakers should, as ever, keep an eye on the SDI website for the next round of Bridging the Gap, for which the theme will be announced during the Edinburgh International Film Festival 2017.