Following a programme of intensive workshops and a competitive pitching process, five filmmakers have been commissioned through this year's Bridging the Gap programme.
One of the leading documentary new talent initiatives in the UK, the theme of this year's programme is LOVE and as ever the filmmakers came at the theme from every angle. The passion that drives ambition, love in the face of death, female desire in a conservative country and a complicated love of home are amongst the ideas explored by the filmmakers.
"This week at SDI, our heads are swirling in anticipation with the exciting Bridging the Gap ideas selected to be made in the next six months" said SDI Director and Bridging the Gap panellist Noe Mendelle.
"We are also delighted that in the process we will be nurturing directors to tell contemporary stories through diverse characters. Come June and Edinburgh International Film Festival we will be celebrating LOVE big time!"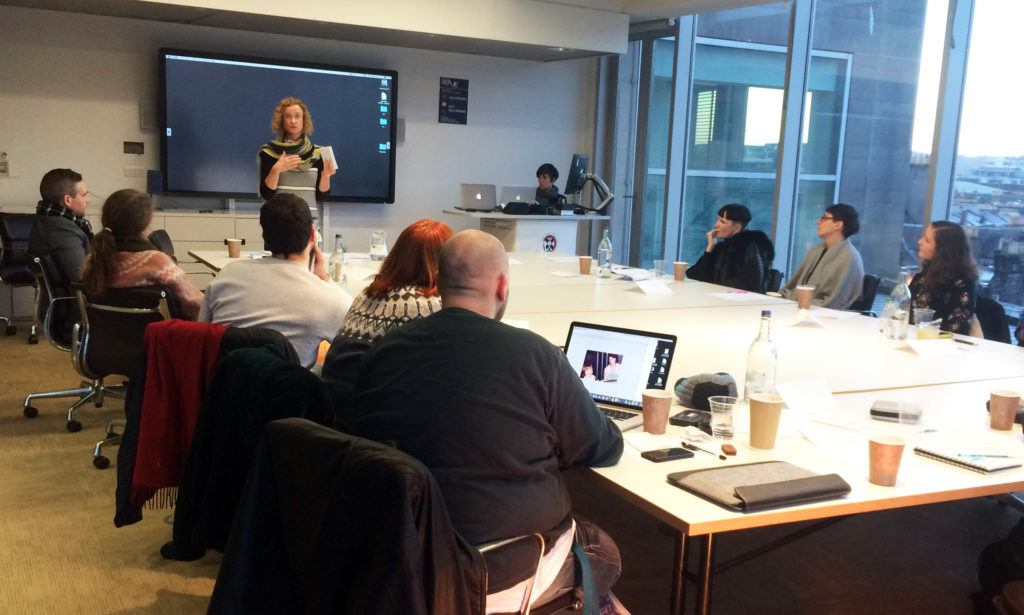 Bridging the Gap workshop participants hear from Editor and Story Consultant, Susan Brand.
The selected filmmakers come from across the UK. The diverse group consists of Isa Rao, Carina Haouchine, Alex Harron and Lea Luiz de Oliveira from Scotland and Dianne Lucille Campbell from Northern Ireland.
Bridging the Gap helps selected filmmakers develop their 10-minute documentary by allowing them to work closely with leading international industry professionals and SDI over a nine month period. Each film receives a cash budget of up to £8k each, along with further hands-on training throughout the editing and distribution process. What's more, the commissioned films receive a world premiere at Edinburgh International Film Festival.
Bridging the Gap is supported by Creative Scotland, Northern Ireland Screen and the University of Edinburgh.
Filmmakers should, as ever, keep an eye on the SDI website for the next round of Bridging the Gap, for which the theme will be announced during the Edinburgh International Film Festival 2018.